CSE – Computer Science & Engineering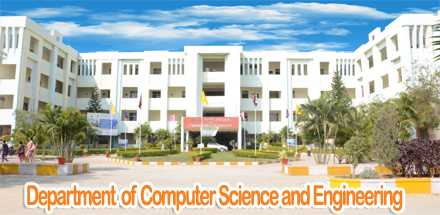 About the Department:
The Department of Computer Science and Engineering (CSE) is established in the year 2004. The department offers B. Tech (Computer Science and Engineering) with an intake of 240 and M. Tech (Computer Science and Engineering) with an intake of 30.

B. Tech and M. Tech in Computer Science and Engineering was accredited by the National Board of Accreditation (Tier-1) and National Assessment and Accreditation Council (NAAC) with A grade

The Department of CSE aims to provide quality education and instill high patterns of discipline, making the students technologically superior and ethically strong which involves the improvement in the quality of life in human race.

The Department has state-of-the-art infrastructure, computing equipment supported by high-speed internet and wireless networks and highly qualified and experienced teaching faculty with quality publications in Scopus, web of science etc. "Centre of Excellence" has been established for the research activities, patents and consultancies. Technology Business Incubator (TBI) which helps technology-based start-ups has also been established.
Prominent Features:
High quality academic programmes
Training activities
Research facilities and opportunities supported by continuous industry institute interaction aimed at employability
Entrepreneurship and leadership among students
Department of CSE has good interactions and MOUs with leading technology domain Training & Development Industries. Department of CSE, signed pacts in the form of MoUs with companies like Microsoft, ZENSAR Technologies, TechMahindra, CISCO, Globerena Technologies.

Our students are placed in various top MNCs like Capgemini, IBM, Tech Mahindra, Accenture, Dell, Deloitte, Wipro, TCS, Infosys Technologies, Cognizant, HCL etc., with attractive annual packages.

The department has a student association called "Espirito" under the aegis of which the students have opportunity to participate in events like Technical Quizes, Mini Project exhibition, Guest lectures, Tech fest, Technical Symposium, Paper / Poster Presentations to quote a few student's forums such as CSI & ISTE were formed mainly to encourage and motivate students to organize various co-curricular activities

Students are encouraged to open-source contributions, participations in Coding Challenges, Hackathons, they are encouraged for Internships and the in-house project ideas are carried out in TBI based on research and social problems.
Courses Offered:
B.Tech in Computer Science and Engineering (Intake - 240)
M.Tech in Computer Science and Engineering (Intake - 30)