IT – Information Technology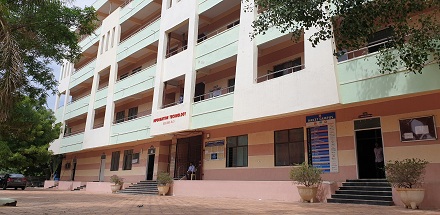 About the Department:
The Department of Information Technology was established in 2007 with an annual intake of 60 and has grown to a current annual intake of 180 students. The department has been accredited by NBA and NAAC – A Grade.
The greatest resource of the department is its dedicated faculty with a well balanced mix of experienced seniors and energetic junior faculty members, organized in a well-defined hierarchy of administration.
A separate building houses the department with ample classrooms, well-equipped laboratories and a spacious seminar hall. Autonomy enables continuous updation of syllabus so as to be in sync with the requirements of the IT Industry.
It offers contemporary subjects like Mobile Application Development, Big Data Analytics, Machine Learning, Block-Chain Technology etc and specialized labs like Linux programming, Web Technologies, Data warehousing & Data Mining and has a Centre of Excellence in Big Data Analytics.
The Department also provides second level of growth to the students through conduction of curricular and extra-curricular activities under the aegis of CSI student chapter.
It organizes Annual Techfest called "TechTrix" and launches Dept. Newsletter called "TechPulse" and Dept. Magazine called "Techronicle" on a regular basis.
Benefaction Club in the Department takes up various NSS activities for students and Faculty.
Courses Offered:
B.Tech in Information Technology (Intake - 180)
Head of the Department

Department Updates: